PAST EVENTS
JUNE 2017

Archiaro 2017 | Ambient and Experimental Music Fest, Albi (CT), Calabria
17 June, 16:00 
In the context of ambient and experimental music in this geographically remote but experientially rich festival, I performed Finalmente il tempo è intero nº 3 (2017) for HN Steel Sheet® soloist.
---
MAY 2017 

Teatro Franco Parenti, Milano | Stasera si può entrare Fuori: una piccola folia di Andrée Ruth Shammah
From 23 to 28 May
- 20:00 (participants in the HN Steel Sheet® laboratory)
- 20:30 (general public)
---
MAY 2017

(Click here for full size video)
I had a wonderful encounter with the children from a middle school in the province of Varese.
Taking the form of a concert-lesson, you can see in the video (with English subtitles!) how I introduced the enthusiastic young audience to the world of the HN Steel Sheet®.
---
APRIL 2017
(Click here for full size video)
I had the great pleasure of participating in the Milan Fuorisalone 2017 as an exhibitor, composer, and performer. I presented my instrument, the incCubo®, and performed my piece Condemned to Happiness nº 1, a sonic installation and performance for incCubo, HN Steel Sheets® and interactive audience.
The audience, under my direction, became performers of these instruments, the HN Percussion®, and the voices of all the participants joined with the steel sheets' vibrations, uniting us in a tremendous sphere of sound. 
The piece was performed four times throughout the evening and the audience reacted with child-like enthusiasm to being invited to interact with the instruments — a pure delight to observe.
(Click here for full size video)
Mirko Jevtović premiered Finalmente il tempo è intero nº 1 for accordion and resonating surface (one performer) at the 2017 Impuls Festival in Graz
Having met Mirko this past summer at the Ferienkurse für Neue Musik in Darmstadt, he subsequently commissioned me to write a solo accordion piece. I'm proud to present his stunning performance, the result of such a fertile collaboration.
---
OCTOBER 2016
(Click here for full size video)

La forza del destino | A musical odyssey by Vinicio Capossela
Vinicio Capossela invited me to co-arrange and perform the Sirens and ocean tempests for his musical odyssey, The Force of Destiny, using the HN Steel Sheet® and percussion. A show which combined Homer, Shakespeare, and Verdi in the spectacular setting of the Teatro Farnese in Parma, this production combined his own songs with arias by Verdi reworked in the visionary 'Caposselian' style. All brought to life in the Baroque-style wooden theatre (which was, appropriately, originally designed to be filled with water and used for simulated naval battles), the result was an intense and unforgettable experience for everyone involved.
Vinicio Capossela, voice and piano
Enrico Lazzarini, double bass
Dario Buccino, HN steel sheet® and percussion
Marco Gianotto, barrel organ
Fabiola Salaris, soprano
Adriano Popolani, tenor
Francesco Coppo, bass
Accademia Corale Stefano Tempia, choir
Stefano Nanni, harmonium, arrangements and conducting
Ermanna Montanari and Marco Martinelli (Teatro delle Albe), choreography and stage direction
TEATRO FARNESE | Parma | 6 October 2016
Production TEATRO REGIO PARMA | In collaboration with BAREZZI FESTIVAL X edition
Commissioned by FESTIVAL VERDI | World premiere
---
AUGUST 2016
(Click here for full size video)

See again you soon, Darmstadt! This year three compositions of mine from a new cycle were performed by wonderful musicians whose talent, commitment and technique made each performance truly great:
- Il nulla non è neutro n° 4, for slide trombone, performed by Raffaele Marsicano.
- Il nulla non è neutro n° 3, for electric guitar and accordion, performed by Nate Chivers and Mirko Jevtović.
- Il nulla non è neutro n° 8, for cello and piano, performed by Ellen Fallowfield and Lan Cao.
I also gave two lectures in the Open Space:
- HN System®: composing the body
- Thundersheet reimagined: the HN Thundersheet and HN Percussion®
Thanks to all the people who made this Ferienkurse 2016 so bright and special thanks to the performers of my music and to Hannah Whitecreek, Anne Heffner, Krassimir Sterev, Yaron Deutsch, Lucas Fels, Nicolas Hodges and Brian Ferneyhough.
---
JULY 2016
(Click here for full size video)
I've been working with a theatre company who are wonderful, both as professionals and as people, on a very entertaining as well as touching show. Here's a taste of several reviews of As You Like It by William Shakespeare, produced by the Teatro Stabile di Torino, directed by Leo Muscato and with music composed and performed by yours truly. 
"The music, performed live by Dario Buccino on string instruments, is incredibly beautiful: it doesn't envelope you like a pastoral drama full of emotional symphonies would, but instead captivates you, imprinting a rhythm on your very soul, and on that of the actors and the audience."
Matteo Tamborrino, outsidersmusica.it 
"Applause for Dario Buccino, who, from a corner of the proscenium, accompanies the action with live guitar music."
Renato Palazzi, Il Sole 24 Ore
"The presence in the proscenium of guitarist Dario Buccino does justice to the intrinsic musicality of 'As You Like It', a comedy which has, not by chance, been defined as 'Mozartian' by [director] Muscato himself."
Manuela Marascio, dietrolequinteonline.it
"...Accompanied by music, this unmissable keystone of the entire show, written and performed by Dario Buccino."
Elio Rabbione, iltorinese.it

After weeks at the Teatro Carignano of Torino and the repeat performances at the Teatro Romano in Verona for the 68th Shakespearian Festival, we're all set for our tour of Italy and China in October! 
---
JANUARY 2016

(Click here for full size video)
Thanks to the collaboration of Zona K, Ma vero was performed once again, the composition for HN Steel Sheet®, voices and clarinet which I wrote for Ensemble HN and which we had performed for ten consecutive years up until 2006.
The performance took place in Zona K, on Via Spalato 11, in Milano, Friday 18th and Saturday 19th of March, 2016. 
The theatre was overflowing on both evenings, and your attentive presence carried such vitality that we still feel it with us now.
ENSEMBLE HN
Dario Buccino | HN steel sheet, voice
Marco Crescimanno | HN steel sheet, voice
Renato Gatto | HN steel sheet, voice
Emiliano Turazzi | HN steel sheet, clarinet
The performance of Ma vero requires a large empty space (c.100 sq. metres).  An audience of 50 is admitted to each performance, and they sit or lie on cushions and mattresses on the floor encircled by the HN steel sheets. The performance takes place in almost complete darkness, just barely illuminated by a single light source (equal to or weaker than the light of a single candle). The dimensions, the silence, and the darkness of the room are of crucial importance for the success, both acoustic and experiential, of Ma vero. The entire body of the listener becomes involved in the experience of silence and of sound.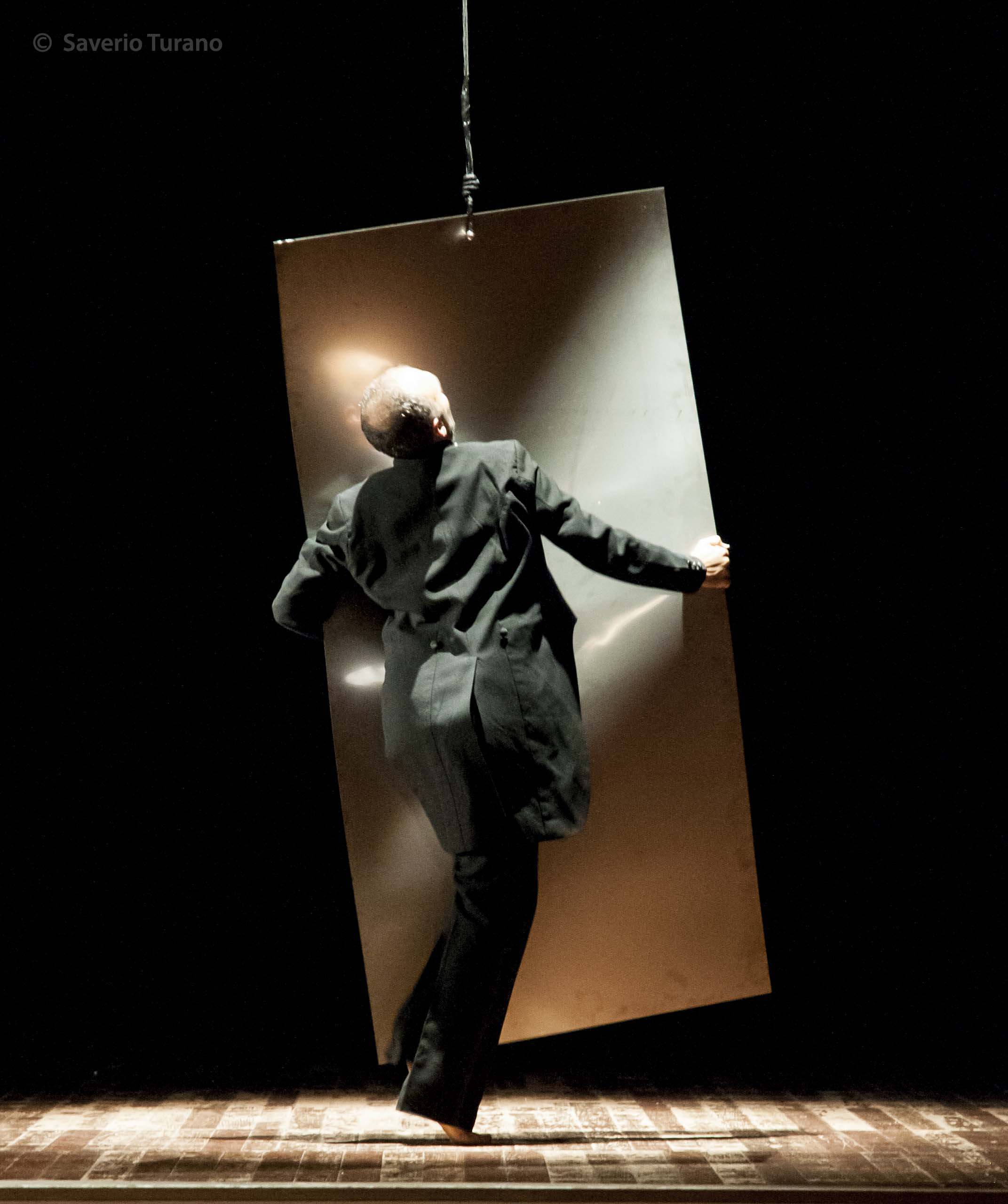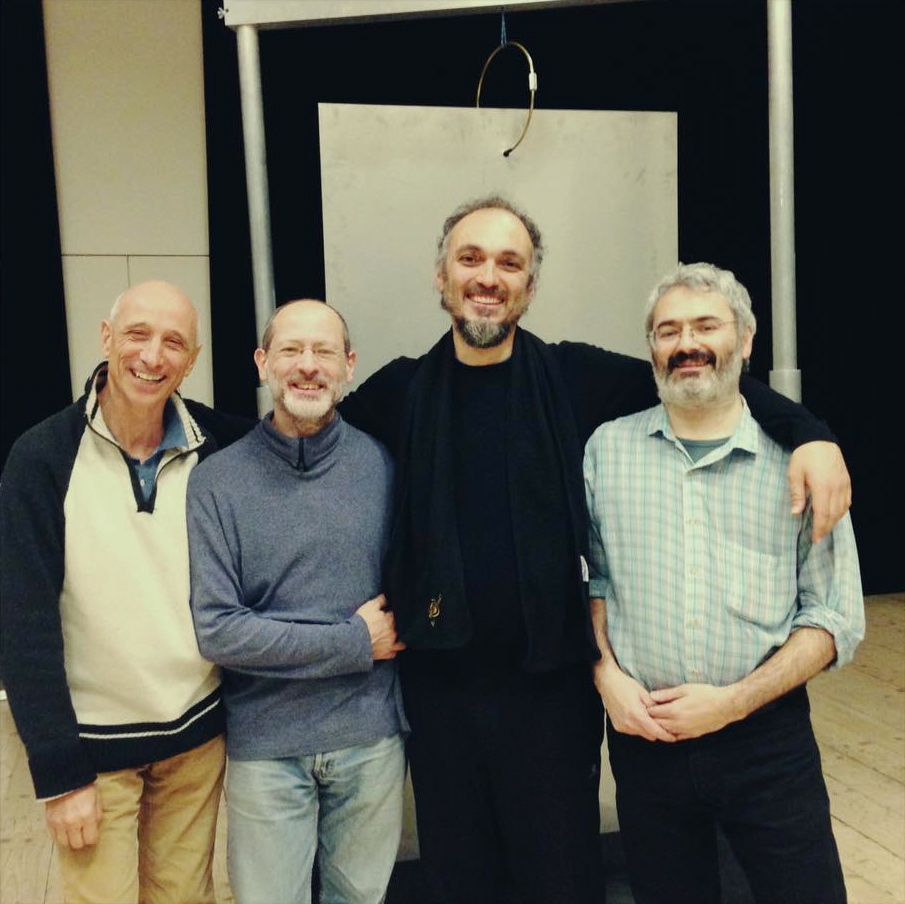 "No recording can reproduce satisfactorily that which the performances of Buccino unleash - here and now - in the immediacy of the live dimension: the infinite richness of the spectrum of frequencies and the ways in which they are projected into the acoustic space; the impressive dynamic ranges [...]; the identification of the spectator with the concentration and exertion of the performer, intent upon caressing, embracing, swinging, flexing, contorting, shaking, pummelling the steel sheet with whatever body part and with the most varied techniques; the extremely physical dimension of the experience and the scenic circumstances in which it takes place (barefooted performer in the darkness of the hall, with the audience surrounding and at close quarters); the stupefaction and shaking of the soul which result."
Pietro Misuraca, Curva Minore Contemporary Sounds 
The score for Ma vero uses the Sistema HN® system, a musical system based on the parametrisation of the performative process. 
HN is the acronym of Hic et Nunc – here and now. 
---
OCTOBER 2015

(Click here for full size video)
I'll also take La Colpa (The Blame). They asked me to play the HN Steel Sheet® on La cisterna, a piece on their album, Mentre guardi alla Germania, and I am happy to have been able to contribute to a project so full of vitality! 
---
JUNE 2015

(Click here for full size video)
Make Music Milan, the Milan Festival of Music, is in its second edition. The festival was conceived in order to bring every kind of musical reality into the city streets, and it is showing just how lively the public's curiosity is even when confronted with music which is far from the mainstream. This year I had the pleasure of playing with the Laboratorio Corale di Milano directed by Susan Lovegrove Graziano, for whom I wrote Il nulla non è neutro n° 1, for HN Steel Sheet® and choir.
---
SEPTEMBER 2014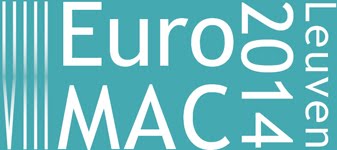 "The Composition of Experience (and its Notation) in the Musical-Holistic Art of Dario Buccino"
Lecture by Stefano Lombardi Vallauri
EuroMAC2014 – Eighth European Music Analysis Conference, Leuven, Belgium
ABSTRACT
"Nowadays music is no longer exclusively a performance art: as in the case of electronic music (both experimental and popular), it can also be produced completely by means of technology, without the live bodily action of an instrumentalist. With respect to this aesthetic paradigm, the Italian composer Dario Buccino (Rome, 1968) does exactly the opposite, creating a music which is even hyper-performative, in that it is composed with the same highest pretensions as much in the aspect of the body actions required to make it sound as in the aspect of the sound itself.
To this end he has developed an original notation system, with many graphical ad hoc solutions, where musical symbols are integrated with indications about the proprioceptive attitude and the physical actions of the performer (often kindred to those of experimental theatre, dance, and body art), above all about the experiences to be felt in playing.
In this sense Buccino goes farther along the way of Karlheinz Stockhausen's "intuitive music" (about 1968-70), Dieter Schnebel's Maulwerke (1968-74, in progress), Helmut Lachenmann's "musique concrète instrumentale", and radicalises an approach which instead is typical of other musical genres (both traditional and popular), where form at all levels arises in composition (often extemporaneous) from the singular physical relationship of the interpreter with her own instrument.
Analysis must cope with all this, first by understanding a peculiar notation system in its own terms, so as to evaluate its pertinence and necessity, also with respect to its historical precedents and analogous cases; then by studying a music which is not only music, but integrates itself in a more general kind of performance art; finally, most importantly, by finding a way to annex to the scientific domain not only the sound and the structure of music, but also the inner experiences of which, in this aesthetically exceptional case, it is truly composed."
Stefano Lombardi Vallauri
---
SEPTEMBER 2014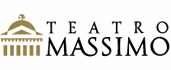 "Dario Buccino: per un'etica della percezione"
Lecture by Marco Crescimanno
Festival Nuove Musiche 2014, prod. Teatro Massimo di Palermo, Conservatorio V. Bellini, Università degli Studi of Palermo
ABSTRACT
"Dario Buccino (Rome, 1968) is one of the most interesting figures in the current international panorama of music. Composer, instrumentalist, vocalist, performance artist, theorist, teacher, inventor of musical instruments, with over twenty years of activity based on the integration of music and performance art, he has anticipated the current trends in contemporary music. His works intensify the perceptual and kineasthetic attention of those who play and those who listen, plunging them into the experience of a persistent, intense 'here and now'. Since the early Nineties, Buccino has developed the HN System (acronym of hic et nunc), a musical system based on the compositional organisation of the deepest forces of the performative process.  In 1994, he was invited as Guest Composer to the Ferienkurse für Neue Musik in Darmstadt to present his system, defined by Heinz-Klaus Metzger as "a surprising artistic invention", capable of "parametrising pain". The system uses an original notation technique, provided with a coherent semiotic structure - syntactic, semantic, pragmatic - and characterised by the cardinal function of specific physical and experiential parameters. Through the HN System Buccino goes beyond the traditional parameters of sound - pitch, duration, timbre, dynamic - in favour of the structuralization of 'sound facts' conceived of as an inseparable union of acoustic phenomenon and performance process. With his works Buccino has in many ways widened the boundaries of what is 'musicable', combining the radicalism of his research into sound and the physical action which produce it with a constant and undeniable attention to the 'listenable' results of his music, succeeding in creating works of great beauty and expressive power."
Marco Crescimanno

---
MAY 2014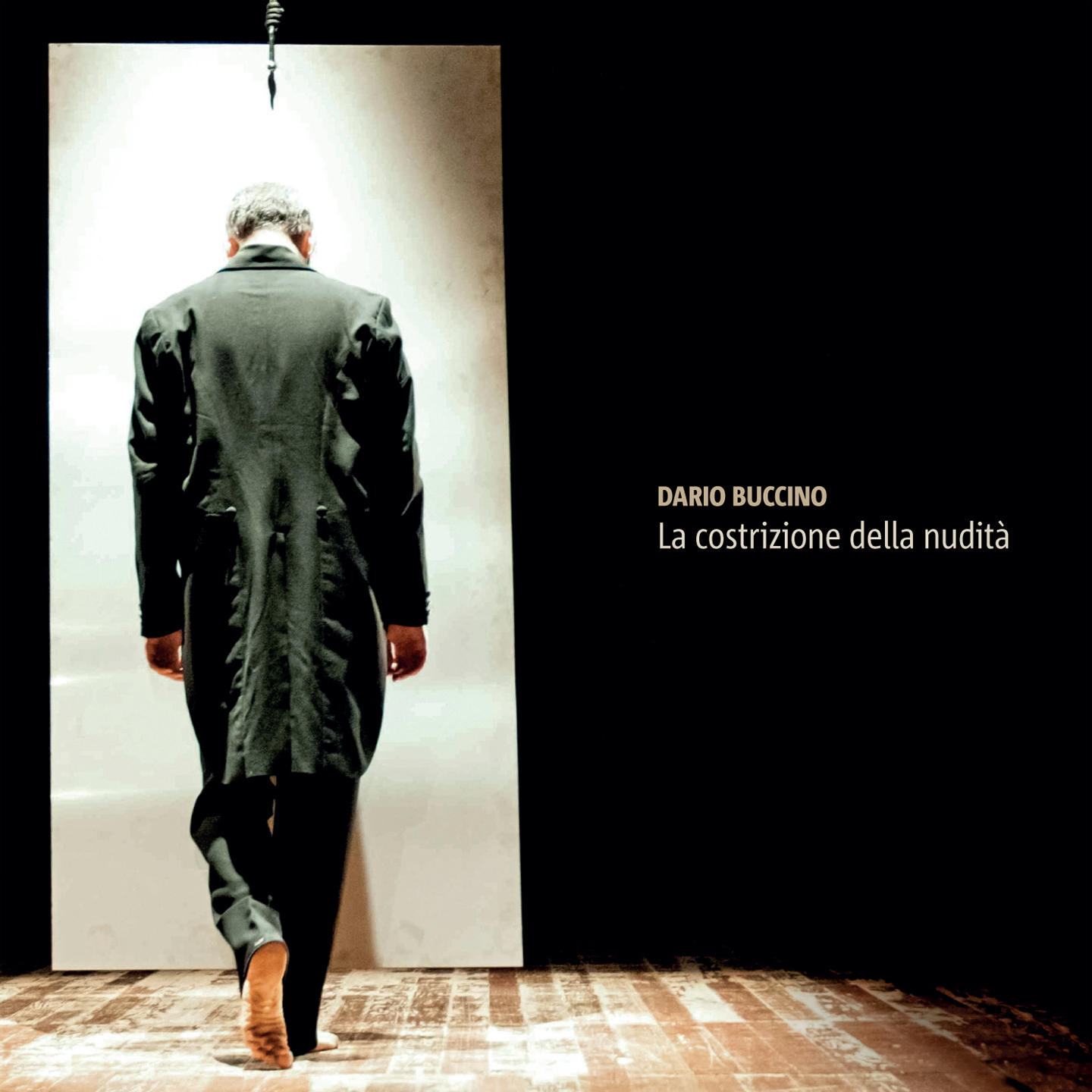 La costrizione della nudità, 'The Constriction of Nudity', is my first disc dedicated to the song form and produced together with the great Taketo Gohara. The album was selected at the Premio Tenco in the category of "Migliore Opera Prima 2014″ (Best First Work).
It presents the first discographic work in which I have applied the HN System® to the song form, the musical system based on the parametrisation of physical action which, up until now, I had always used in the setting of so-called 'cultured' music. 

The disc, which celebrates the twentieth birthday of the HN System, was presented live on June 21st, 2014, in Piazza del Duomo in Milan, during Make Music Milan, the Milan Festival of Music.
Accompanied by the HN Steel Sheet® and seven musicians from the HN Ensemble, I made my personal hommage to the song form, to which I have always felt close as a street musician and collaborating over the years with the artists the likes of Vinicio Capossela, Marco Parente, Stefano Edda Rampoldi, Enrico Gabrielli. 
The title of the album, a line from Primo Levi, is connected among other things to the HN Steel Sheet, a naked and raw sheet of steel which, thanks to simple but crucial construction processess, is transformed into a true solo musical instrument. 
The following took part in creating the disc: Sebastiano De Gennaro, Stefano Nanni, Mauro "Otto" Ottolini, Alessandro "Asso" Stefana, the Mitici Angioletti children's choir, directed by Mariafrancesca Polli, and the Quartetto EdoDea made up of Edoardo De Angelis, Luca Marziali, Emilio Eria and Alejandro Martinez.
"Sit down and listen to suffering becoming beauty, sound which enchants and overflows, orchestral paths which spin rapidly, filling every corner of the room, your mouth, your thoughts accumulated over days. On this CD there's a refined and determined singer-songwriter who is surrounded by instruments and musicians, who is never alone but draws out lines which combine with others in order to create sonic structures of curated finesse and brimming with details."
Margherita G. Di Fiore, rockit.it (...)
"Composer, performer and street artist Dario Buccino has sowed in the furrows of this debut discography the spores of his twenty years of research and his love for the song form, rewriting the etymology of the singer-songwriter with an experimental grammar of carnal-emotional morphology even before being a new phonographic notation. One can believe that, if this is his debut, Buccino will have no difficulty in raising the level of Italian songwriting." 
Nadia Merlo Fiorillo, mescalina.it (...) 
"Buccino directs his projects along this narrow railing, bringing to life a story which for many would have gotten out of hand, and with this, 'La Costrizione della Nudità', he creates (and will continue to create) a furrow for those who wish to gather up sonic experimentation into a bouquet of instinctual prose."
Christian Panzano, SENTIREASCOLTARE (...)
"The presence of so many artists listed on this disk is further testimony to the high artistic value of the project. An undeniably complex and courageous work which improves with distance; to be avoided by those looking for tunes to whistle in the shower." 
Paolo Bartaletti, laScena.it (...)